Tour Types
Classic

Enjoy a refined take on the art of group travel.

Exploration

Experience true adventures on these Collette small group tours.

Faith

Set out on an inspiring journey on these faith-based travel experiences.

River Cruise

Explore the world's most beautiful waterways.

Spotlights

Come to know your destination during a single-hotel stay.
Your Tour at a Glance

Stay

Meals
Tour Activity Level
The activity level for this tour:
You're a leisurely traveler. You like to discover the energy of a new place, but typically take it easy. You can handle at least one flight of stairs, board a coach, and walk for 15-30 minutes at a time with little difficulty.
You like a balanced approach to travel. You feel confident walking at least 30-45 minutes at a time over a variety of terrains – from cobblestones streets to easy straightaways to a couple hills or flights of stairs. You're comfortable walking a few city blocks at a time, but need some time to unwind and relax.
You're an on-the-go traveler. You don't want to miss a thing, so walking and standing for longer periods of time (1-2 hours) isn't a big deal. You can navigate hills and uneven ground, climb into various modes of transportation (tuk-tuk, cable car, zodiac, etc.), and could possibly anticipate changes in elevation. You can expect some longer days balanced with free time to recharge or set out on your own adventure.
You're ready to seize the day, whatever it may bring. You lead an active life at home (walking, biking, and hiking are things you may enjoy) and few thousand steps a day isn't out of the norm. You can handle longer walking tours (more than 90 minutes), traversing dusty or uneven terrain, standing for periods of time, varying altitudes and temperatures, and don't mind being on the go with some early starts, late-night experiences, and full days. Unfortunately, this level is not appropriate for individuals who use wheelchairs or walkers.
This tour is very active, requiring participants to be physically fit to fully enjoy all the experiences. This itinerary has more strenuous activities which may include such things as: extensive walking tours, transfers over uneven and dusty terrain, high altitudes, early morning departures, late night activities, or extreme temperatures. All conditions do not apply to all days, so please read the itinerary carefully and speak to one of our travel counselors to determine if this tour is right for you. We recommend this program to individuals who are physically fit. Unfortunately, this tour is not appropriate for individuals who use either walkers or wheelchairs. If this trip is not ideally suited for you, our travel counselors can help determine the perfect trip for you.

Want some help? Call us.
888.682.4862

Itinerary
Wonders of China & the Yangtze River
Use the selector below to choose a date that works best for you
Select a Day
Your Day by Day Itinerary
Please Wait...
and get excited!
We are currently building the itinerary for the tour date you have selected.
Traveler Reviews
Great experience throught China

Service

George Pu and Rie Taki were our guides throughout the trip. George gave allot of information, answered our questions, and made recommendations on food to eat. They were great.

Tour

Xion and Beijing---food quality was just OK. The Yangtze cruise was spectacular and the food great. Cruise acconodations was great.

Service

We had to join an already formed group of eighteen people with their own tour director. This situation was often uncomfortable because the tour director of the group cared preliminary for her group first. Unfortunately, we felt we became a minority.

Tour

Too many presentations were primarily a sales pitch to sell some products. It was disappointing, because in itineraries, those were described as learning experiences of Chinese culture, history and food.

Thank you for traveling with Collette on our Wonders of China & the Yangtze River tour. We're sorry to hear you experienced issues with the makeup of the tour group and the itinerary. Our Product Design Team will review your comments on the amount of presentations included on tour. In regards to the group of 18, they did have a group leader however the only tour director would have been the one with Collette.

Collette Support

Well organized. Great tour manager, George! Very educational trip.

Service

You thought of everything! Yes, would highly recommend to everyone.

Tour

Loved the tour, but the sales pitches at every factory/showroom got a bit tiresome. Best memory?...the Pandas and the river cruise.

Service

George Pu and his team were very pleasant and friendly. They weren't stressed out and made sure everyone was taken care of. Of course we also had our organizer Rie Taki who knows our needs. One of the attendees strained his back and George personally went out to purchase a brace for him to ease the pain. He also brought me some lozenges as he noticed my coughing due to allergies.

Tour

Hearing about history and social issues facing China. Seeing the sites is only half the experience, having a guide who can recite the history past and present fulfills the entire experience.

Service

On our particular tour, three of our attractions were cancelled. Our tour scheduled on September 27 thru October 12, 2019 was during China's 70th Anniversary celebration. When we signed up for this time period, Collette should have advised us of this special occasion when the Chinese citizens were off of work for a week. We encountered mobs of citizens, especially at the Terra Cotta Warriors. We were not allowed to visit Tiananmen Square or the Forbidden City. Our Beijing Kung Fu Show was also cancelled. Had we known of the situation, we would have chosen another time frame within which to travel. Our tour manager, Addison, was great. He handled our large group of 43 with patience and courtesy, especially going through all the domestic airport check-ins.

Tour

More information should have been provided prior to tour purchase regarding China's anniversary celebration week and citizens being on vacation for a week. With this additional information, we would have signed up for a different time frame.

I had good service, two trips both very well planned, safe and enjoyable.

Service

Our Tour Manager was excellent and he has the best personality! He had the largest group to guide (44 folks!) but he kept us all safe throughout the tour. He was very caring and knowledgeable about his home country. I learned a great deal about the people, the culture, saving the Panda bear, and the very advanced technology in China. I admired the incredible ancient Chinese and how they built huge items like the Forbidden City, Terracotta Soldiers, Red Pagoda, The Great Wall, the tallest and most advanced buildings in Shanghai, everything was fantastic! I loved the whole tour including a great time to relax on the Yangtze River cruise. I have already recommended Collette Tours to my friends.

Tour

Well planned tour with the best tour guides. I learned a lot about China. I really enjoyed the Terracotta soldiers and the Pandas. Our tour guide, George Pu, has the best personality and he made the whole trip a wonderful experience, trip of a lifetime!

Service

We loved the tour and our tour manager! We got experience so much and saw so many different areas of China.

Tour

Highlights were the Great Wall, Terracotta warriors, Pandas and Hot Pot dinner.

Service

Our tour manager went above and beyond to make sure everyones needs were met. Added stops when possible to include attractions that we wanted to see (example - the Olympic venues of the birds nest and the cube in Beijing and the Bund in Shanghai). These should be included on the tour.

Tour

The Great Wall never disappoints.

Service

Itinerary was fantastic, as was George our tour manager. Unfortunately for this itinerary, the group was too large (43 travellers + 2tour guides) with a number of them with mobility issues (4 people requiring wheelchairs). Local tour guides were OK, but George really made the trip. Staff assistance getting visas was most appreciated.

Tour

Walking on the Great Wall was amazing.

Service

The transportation to and from the airport was perfect. On time with nearly new vehicles.

Tour

The Pandas, the Great Wall and Terricotta soldiers were my favorite.

Go to China with Collette!

Service

The tour itself, the tour manager, and most of the local guides were all top notch. Our local guide for the Shibaozhai 9-story pagoda really did not tell us much about the building and its significance. To be fair, she was heavily involved in trying to keep our group together, a task similar to herding cats. The tour's physical activity rating level of 'moderate' was severely understated. We had several members of our tour that had physical challenges and the distances required in several locations were difficult for them. Our tour manager and local guides did an outstanding job of ensuring wheelchairs and people to push them were available. Our tour manager and guides made sure everything was perfect in the restaurants we visited and explained the contents of every dish. Most of us were not very happy when we learned the there was no flight available from Xi'an to Yichang the day we were to travel. Instead of flying directly, we had to fly to a 'nearby' city, Wuhan, and bus five hours to the cruise ship. Once again our outstanding tour manager used her people skills to teach us Chinese history and keep us occupied on the long trip. When we departed from our hotel in Shanghai to the international airport, our tour manager double and triple checked that all of us, whatever our departure times, made it to and through the flight check-in process. The service provided by Collette not only met, but exceeded my expectations!

Tour

It is very difficult to select a favorite memorable experience when there are so many to chose from. Each of the items on the itinerary had its own wow factor. Tiananmen Square and the Forbidden City, The Great Wall, and the Terracotta Warriors were all fantastic, but I think my most memorable experience(s) were sharing the lazy-Susan Chinese meals with my fellow travelers after seeing an outstanding attraction. We really bonded as a group.

Overall good but bus trip to boat and lost half day on cruise left us sour.

Service

Pros: Continually updated on flight info and promptly met at airport on arrival and ably assisted with departure. In country facilitation of luggage from hotel to next airport when air travel needed was excellent and highly appreciated. Our tour manager took care of it all and had boarding passes ready for us at airport without the need to check in. Good wireless units with good reception, no static. Good value for dollar. Our tour manager was fantastic and worked very hard to ensure we had a good time, keeping our large group together and ensuring we knew the schedule for each day. Local guides were very good. Cons: Size of group was too large. Scheduling group at Collette should have been aware that for going to cruise we had to fly into a city 5 hours away as the closer city stated only had flights on alternate days. This resulted in our worst experience of the entire trip. The bus used for the 5.5 hour trip was far too small for adults with not enough legroom for even the women to sit straight and the seats themselves were very uncomfortable. Very painful experience. Additionally, we had nothing to eat between 11:30 AM and the following morning as there was no where to stop for anything on the six hour trip. They should have had packed lunches for this leg. The extra travel got us to the cruise ship at about 11:40 PM wasting all of what should have been our first day aboard. Although they advertise a side trip on traditional "pea" boats, this is no longer done but rather you are taken up the gorge on motorized boats with seating. While we had no problem with "moderate" exertion, it was challenging or too much for a few of the group. Some mornings were very early with a 4 AM start to the day needed once. First hotel was excellent and others were just acceptable. While we appreciate the effort put in to ensure we had very good meals (which we did), it would have been nice to have had restaurants closer to the hotel as the bus rides to dinner were often overly long (yes, we realize this is traffic in China, particularly Beijing but this might be taken into account). Yes, We would recommend Collette to friends provided they were well aware that the groups are quite large.

Tour

All (Great Wall, Terracotta Warriors, Maglev Train and Pandas) but particularly the cruise which was the highlight.

Service

Our tour guide, Summer, was excellent along with all our local guides. We saw all the highlights we wanted plus more.

Tour

Kite flying on the boat tour.

Trip was great but some people there that couldn't keep up with the group

Service

Not all things done that were on the schedule

Tour

Not all on schedule was done.

Service

They responded to my requests promptly

Tour

It was terrible. The food was trash. They turned off the air conditioning during the afternoons. the internet was non-existent. There was nothing about this cruise that was worth the expense, I would recommend that you drop it altogether.

Thank you for traveling with Collette on our Wonders of China & the Yangtze River tour. We're very sorry to hear you were disappointed with the quality of the tour. A member of the Guest Relations Team will be reaching out to discuss your feedback.

Collette Support

Collette covers the details and you just enjoy the ride

Service

We should have had another 2 days in Shanghai, It is the largest city we visited and the shortest amount of time. we would have liked to have more time at the terracotta warriors exhibit. We were told not to purchase from the vendors - as we had no time. A lot of time we felt stifled when we were give 30 minutes or 45 minutes to shop. We will probably never return to China, and we wanted time to shop

Tour

Great time at the Great Wall, great time in Beijing - with plenty of our own time. Very short on time for shopping in other cities. Great itinerary, excellent main guide - the one that was with us the entire trip. Local guides difficult to understand

Service

Overall the tour was very well organized and very well executed. Our tour guide, Jason, was exceptional. We did however have a couple of issues. Collette "allowed" customers ONE glass of beer at lunch and dinner. One bottle or one can would have been acceptable. But often the "glass of beer" was the size of a small juice glass. Two or three bottles were place on a table to be shared with 10 or 12 people. That was terrible and unacceptable. Shame on Collette. Secondly we were REQUIRED by Collette to renew our passports because they would have expired at the end of the year. YOUR policy stated that we needed to have our passports valid for ONE year BEYOND our return date. Because of your policy we were forced to pay for expedited services and special handling at a cost of couple of hundred dollars each, in addition to the price of our new passports. That POLICY is not in line with United States or Chinese requirements which require a passport to be valid for 6 months after our return date. And we did not learn of your policy until it was too late for us to gain new passports on our own, because we had to submit them to Collette for obtaining our travel visas. It was an unexpected and unnecessary expense and we SHOULD be reimbursed for it. For that reason we will probably not travel with Collette again, and will probably not recommend Collette to other travelers.

Tour

The Yangtze River cruise was our favorite part of the tour.

Thank you for traveling with Collette on our Wonders of China & the Yangtze River tour. We're sorry to hear that these issues affected your overall experience with us. Your feedback on the beverage limit with the included meals will be reviewed by our Product Design Team. Collette does not have a policy in regards to passport expiration dates. Certain countries require a minimum of 6 months passport validity from date of return home. We strongly urge guests to contact the appropriate consulate for details. That verbiage is included on our invoices.

Collette Support

Service

I worked with Collette through my travel agent. Collette provided a good description of the tour in their brochure. I found their website difficult to navigate. The pre-trip information they provided was thorough. The provided the information in a re-useable folder. I did not use the tote bag (cheap) and I had to get a new lanyard for my name tag.

Tour

Our tour manager, Jason, was excellent. It was a busy tour with lots to see and travel between sites. The Great Wall, Terracotta Warriors, Panda Research Centre, and neighbourhood tour were highlights.

Service

Well organized. Jason was wonderful tour manager. City guides were great.

Tour

Too many to name. Enjoyed it all.

A lifetime dream tour made even better

Service

This was our first small group tour and it exceeded our expectations. The sights and experiences were once in a lifetime as expected but the service offered by our wonderful tour manager George made the whole experience. His knowledge and love of his country and his desire to pass that on to his "family" were outstanding. George was always available and if there were any issues I was very confident that George would solve them. The before tour care and support from Collette were also excellent. I have already been recommending Collette to friends and family and it is very likely I would use them again

Tour

The visit to the great wall and celebrating with champagne provided by our wonderful tour manager and guides after we had climbed it

Service

The tour was a ten, the hotels were a ten, the food was a ten, and the group tour leader George Pu was a thousand. He nailed it every time.

Tour

Everything was perfect. A life time a great memories in 16 days.

Service

Well presented and detailed information and helpful tips on the trip gave great reassurance and confidence in our first tour with Collette

Tour

Walking on the Great Wall of China and celebrating with champagne afterwards.

Service

The service was fabulous. Each time I spoke with an agent, they were knowledgeable, efficient, and helpful.

Tour

Great tour. The tour keeps you moving from place to place. The only thing I would change is to eliminate the need to tip. Include the tipping in the price of the tour. It's hard to ensure you have the right denomination. At times we didn't have it, therefore we didn't tip.

Service

No detail was unattended in our China tour. Link, our tour guide, was phenomenal!. He is Collette's greatest asset in China!!

Tour

The terracotta warriors was a highlight. Eight thousand clay figures with individual faces! A true wonder and testimony to China's splendid history.

Service

This was the best vacation EVER!! From the moment we were picked up from the airport to being returned to the airport it was wonderful. Our tour manager George Pu worked endlessly to make this a worry free trip - room accommodations, meals, daily tours, etc . I would tell anyone please take this tour and if you get George as a tour manager you will have the time of your life

Tour

Walking along the Great Wall and the Terracotta Warriors were the highlights of the trip

China was a great experience

Service

I thought the Collette had a top rate guide manager. Link Lee was on top of every little detailed. He made the trip for me and my husband. The accommodations were good. And the total agenda was good. There was enough time to relax and because of our guide we didn't have to wake up early for our flights. He went to the airport ahead of us and checked in our luggage. Saved us sleeping time.

Tour

I liked going to the Great China wall, terra-cotta soldiers, the cruise on the Yangzi River and Li River, Pandas, Xi'an City.

Service

Our trip Wonders of China was educational and fun. We had an outstanding tour director in George Pu. George brought his love of his country to us in the food he introduced us to, the history he presented, the happiness of the Chinese people, and the beauty of the country. We had a jam packed itinerary filled with "the wonders of China" all with smooth transportation connections and individual care.

Tour

Experiencing the vast differences between the eastern and western cultures

Service was excellent - courteous, professional and expedient

Service

Made travel throughout China interesting & easy. Our Tour Manager "**** ***" created a "**** Family" - made it fun and did everything he could to make our trip special.

Tour

Our first 'escorted' tour - we are well-traveled and did research & chose Collette because of its reputation and quality of service and hotels, etc. The tours were great - the Shanghai Hotel - terrible. It was a 4 star or 5 star - we know the # of stars may not equate to property in the USA or major tourist spots like Italy, Australia or United Arab Emirates (Burj Al Arab) -But, the Shanghai Hotel should not be on your list - very dirty carpeting (were told not to walk barefoot in the room use the slippers provided - what was on the floor?), moldy bathroom - etc. Unacceptable - if we had known how bad it was - we would've booked a room at the Marriott/Four Seasons however, this would have made it difficult to stick with the tour transportation. Other hotels were fine. Victoria Cruises an absolute delight.

Collette organisation good but Victoria cruise line on Yangtze River dreadf

Service

The organisation of Collette is very good. But I had a holiday from hell due to contacting samenella, septemci, septic poisoning on the Victoria cruise on the Yangtze River, which I am sure you are aware of because the cruise ship was closed down due to bad food handling. Collette and Wendy Woo apparently were having to seek alternative cruise arrangements for the following cruise tour. I ended up in a hospital from hell in Chongqing fighting for my life, I had to be hospitalised since I have been back to U.K., I am home now but am now very weak and tired because of all this

Tour

The tour itself would have been excellently organised if it had not have been the problem on th Victoria cruise line on Yangtze river

No more Collette Tours for us!

Service

Collette took 40 on our tour: too many. Collette endorsed the shops we went to. At the Shanghai Silk Museum, after the silk worm demonstration, we had only 15 minutes to purchase scarves & comforters. (We we're told not to purchase silk scarves anywhere else, because they would probably not be 100% silk.) We requested a King size comforter; when we got home, it measures 87" by 96" which is NOT king size. I called Collette Service many times; finally, Sally returned my call and said there is no recourse through Collette. So obviously Collette does not stand behind the shops it endorses. We will NEVER take another Collette tour.

Tour

The Silk Comforter we purchased from Shanghai Silk Museum was NOT king size, as it was purported to be.

Hello Mollie, thank you for bringing this to our attention. We appreciate you and value your insight as it helps us to improve our tours for future guests. 

Collette Support

Service

Excellent tour Mgr. Fabulous itinerary.

Tour

The Great Wall of China and the Terracotta Warriors.

Service

The guide was excellent. The hotels great. Would have been better to know not all excursions were included. Enjoyed all excursions. I'm glad we didn't take the later trip because it was a national holiday which would have been crowded.

Tour

enjoyed the trip. we had an excellent our guide

Just a fabulous tour, extremely well planned and Jay(tour guide) was great!

Service

Yes

Tour

Everyday was better than the last one. The highlight was the cruise.

Great trip, great guides, great hotels, great tours, really great.

Service

Best tour director I have ever had during my 60 years of travel! *Personal information removed by Feefo* was simply fantastic. He even managed to obtain me a new suitcase when mine was damaged. The local guides were all knowledgable and most professional. The hotels were fantastic although I really do not like buffets which is what we always had for breakfast. The family style dinners were fun and good.

Tour

Pandas!!!! Teracotta soldiers.

Service

The tour it's self as just right. The tour manager was excellent as was each of the city guides. The tour was physically more challenging than I expected. This should be explained before people go. I have physical limits and the climbing of the stairs was almost more than I could do. I loved the tour.

Tour

The tour included places I have read about all my life and the fact I was actually there was almost overwhelming.

An interesting and exciting trip.

Service

We've traveled with Collette a few times because they make sure that the customers are well taken care of by the tour manager. We feel safe and informed throughout the entire trip.

Tour

We were happy to do this trip because it covered a lot of China for the price. Our tour manager *Personal details removed by Feefo* was excellent and the guides were informative and friendly. The only thing was that most of the time we had to purchase gifts and souvenirs where the guides took us. We were not able to compare prices. At the terra cotta soldiers by building 2, there was a wonderful shop full of different things to buy, However, there was no time allotted to shop there. We needed to go to the terra cotta factory where we were followed by sales people almost hounding us to buy their furniture. At times the tour was so full of things to do that there was no time to rest. Still it was a great trip. We covered so much of China. We saw the mega cities, had a bus ride through the rice fields and countryside, and went into small villages along the Yangtze River.

Service

The itinerary was for the most part excellent. Though I thought to much time was spent in several localesmall. Specifically in Shanghai and Beijing. I cannot say enough good things about our guide *Personal Details removed by Feefo* He was extremely knowledgeable, helpful going well above and beyond what I expected and have experienced with other guides.

Tour

Did not rate as 5 stars as I felt to much time was spent in Shanghai and Beijing other than that the tour was excellant.

Service

Customer service was very good before departure. The guide (personal details removed by Feefo) was very nice, although I sensed too much tension in him. All the guides talked too much. They believe that being a good guide is talking a lot. The quality of food was poor. Restaurants of low quality. I thought you were going to take us to places were we would have choices. The only good food was the dumpling diner. And you can tell about the food quality by the bathrooms. Very dirty and smelly. I think the guides should consider stop every 2 hours to allow us using facilities.

Tour

There was no time for shopping. In Xanghai, I mentioned that a friend told me about the Pearl Market in Beijing to buy pearls and (personal details removed by Feefo) told me that the 2 last floors were closed. So he took me to a pearl shop extremely expensive. And he was lying because Imwent to the pearl market and the 2 last floors were opened. By the way, all the places that the tour took us for shoping were highly expensive and where they could get some advantage. I hate lies. The service at the cruise river was really poor. Personnel was poorly trained.

Hello,
Thank you for sharing your experience with us.  We apologize for the service and accommodations you experienced while on tour.  We have passed your feedback along to our tour managers and product team for review.  They will use your insight to improve the tour for future guests.
We appreciate you and look forward to traveling with you again soon. 

Collette Support

The tour was well organized and the tour was well organized

Service

The tour was well organized and the guide was very attentive to the needs of all of the tour members.

Tour

In 16 days we got a great view of many different parts of China. The visit to the Terracotta warriors and the whole burial site as well as the great wall were the high lights of the trip

Awesome company, great experience!

Service

Our tour guide *personal details removed by Feefo*was incredible, he handled all situations that arose with absolute professionalism. He was entertaining on the long trips and very knowledgeable of china, and it colorful history!! Other than that, the rest of the trip was fantastic as well. I appreciate Colette having such a great tour, it was well planned and gave us the perfect amount of activities mixed with free time. I will use Collette again and would recommend your service to anyone that asks! All of the pre-trip information provided by Collette was very helpful also and much appreciated!! Thank you!!

Tour

Everything was great and well planned!!

Excellent service by Collette

Service

They answered all my questions in a nice manner.

Tour

We were supposed to be on the 9 day tour but my wife didn't get her passport on time. Collette helped us onto this tour and it couldn't have been better. The extra cities and experiences were absolutely amazing. We really enjoyed the cruise up the Yangtze.

Wonderful trip and well organized by your guide, Julia. She is incredible.

Service

The itinerary was too jampacked. I would have appreciated some relaxation time and if you were early mornings.

Tour

Terracotta Museum my favorite. All were special.

Service

The trip was awesome! The problem was in tipping. The trip was costly enough, but then we had to spend approximately $400.00 in tips! That is completely outrageous! This will deter me from taking any more trips through Collette. I will also not recommend your company due to this added expense.

Tour

The tour was great! The highlight had to be the Great Wall of China!

If you want an insight into China then I would recommend e

Service

Our Tour Manager was excellent we could not fault her. The tour although quite busy was very good and gave us an insight to China. The only thing that I would say that if you are not good at climbing steps then a few of the tours are not for you.

Tour

We enjoyed the tours very much especially the pea boat ride and the Great Wall

Service

Great team! Our tour guides were great, helpful, knowledgeable, friendly, accommodating!

Service

Very very well organised and executed with good guides throughout all held together with an exceptional tour manager in Julia Zhu. I think having a small group (22) was a real blessing.

Tour

Tour had everything in it and went like clockwork. terracotta army and great Wall were awesome and a "must see" event. Collette really did know how to get everything into the schedule I would have no hesitation in recommending them.

Educational trip to China

Service

The Wondors of China was a great trip. The guides were very professional and knowledgeable. I have nothing but praise for Julia the tour manager. She had her hands full with a very sick man in our group, who in my opinion, should not have traveled, yet she handled the situation very calmly.

Tour

I very much enjoyed the Terra Cotta Soldiers. Our guide got us in very early to avoid the crowds, which was a plus! This is the third trip I have taken with Collette and they never disappoint.

Service

I like the hotels that are selected for stays. Many of the guides are local people that are excellent. Some days are fast-paced and then a slower day next to relax.Best tours for the money

Tour

I liked the Great Wall, the warriors and the factories.the long walk across Tiananon Square was difficult but how else to see it? Tipping was always a constant- not prepared for so much! Taxing at times.!
Other Tours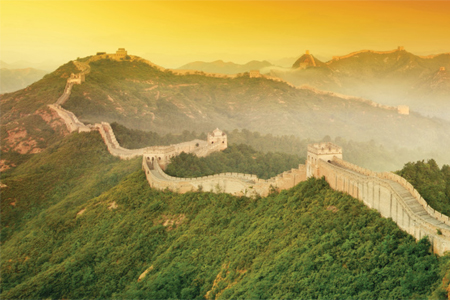 Discover China
13 Days 24 Meals
Tour Rating: :
Unravel the mysteries, beauty, and traditions of China on a leisurely tour from Beijing to Shanghai.
Tour Detail
---
Tell Your Friends About This Tour
Notes
Single accommodations are limited and are available on a first come, first served basis.

The order of sightseeing may change to best utilize your time on tour.

The trans-Pacific and internal flights on this program are not included in the land price. All air including internal flights can be purchased through us.

A visa is required for this tour at your expense. The approximate visa cost is $140 USD. Rates are approximate and can be changed at any time based on governing authority. Visit www.travel.state.gov (the U.S. State Department) for the latest details with regard to passports and visa requirements.

To complete your tour, we include roundtrip airport-to-hotel transfers when purchasing our airfare with your tour. If you have arranged for your own air, we are pleased to provide you the option of purchasing these transfers. Please note that all transfers will leave at pre-scheduled times.

Triple and child accommodations are not available.

Please be advised many airlines do not provide advance seat assignments until check-in at the airport. Advance seating will be subject to the airline's terms and conditions.

The trans-Pacific and internal flights on this program are not included in the land price of your tour. Trans-Pacific flights need to be arranged and purchased separately if you arrange your own air. Internal flights must be purchased through us even if you purchase trans-Pacific flights on your own. Internal flights will be ticketed and distributed on tour by your Tour Manager.

Itinerary is subject to change due to unforeseen changes in water levels and other circumstances that may arise along the waterways. These changes may result in certain sites from the original itinerary being missed during the trip; however, every effort will be made to substitute for another attraction if possible.

Gratuities for cabin stewards, bus boys and waiters on board the ship are not included.

All guests will be confirmed in Balcony cabins during the cruise portion of the tour.

One bottle of water is included, per person, per night at all hotels. Additional water will be provided while sightseeing.

Meals on board the ship are a mix of Western and Chinese cuisine.

Please be aware that if your flight schedule is via Dubai or if you are stopping over in Dubai and are carrying narcotic drugs, controlled or semi-controlled drugs, then you will be required to complete an electronic form prior to entering the country, to obtain approval to carry medication. Please use the link http://www.mohap.gov.ae/en/services/Pages/361.aspx to view the guidelines. A user's guide is available to explain the application and the supporting documents required.

The overall activity level of this tour is a level 3. This means you're an on-the-go traveler. You don't want to miss a thing, so walking and standing for longer periods of time (1-2 hours) isn't a big deal. You can navigate hills and uneven ground, climb into various modes of transportation (tuk-tuk, cable car, Zodiac, etc.), and could possibly anticipate changes in elevation. You can expect some longer days balanced with free-time to recharge or set out on your own adventure.